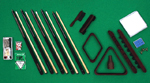 Premium Kit (Upgrade for $199.99):
Available in Classic Oak, Traditional Mahogany, Black, Honey Maple and Cinnamon finishes.
Matching hardwood 15-ball rack, 9-ball rack, 8-cue wall rack.
9Ó table brush and 7" under rail brush.
Four Premium two-piece 58" maple cues with soft touch grip in four colors.
Two-piece bridge cue with soft touch grip and brass bridge head.
Cue tip repair kit, 8Õ clear pool table cover, 12 pieces chalk, shaker bottle, tally balls, chalk holders, rule book, shaft slicker and cue shaper.